Hair removal with sugar paste
Sugaring is a soft and gentle method of hair removal with sugar paste..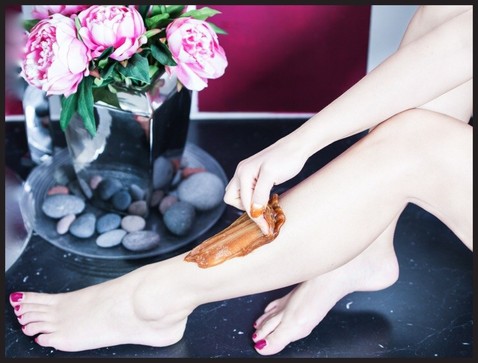 The Sugaring is to remove a natural and very effective method of hair. The hair is not ripped like the waxing, instead, the hair is removed with the direction of hair growth. This makes you feel less pain, the hair can not cancel when used correctly and not later grow.
The sugar paste originated more than 5,000 years ago in ancient Egypt. At that time you used this way for gentle hair removal and body care with antiseptic effect. Sugar was then later in antiquity as "Cleopatra's Gold". Some time later, in times when drugs were scarce, the sugar was used for disinfection and wound healing. To date, to the basic formulation nothing changed. Cosmenia® made with other natural ingredients such as Coffee and cocoa optimized, maintaining our customers not only a gentle hair removal, but concurrent care, firming and soothing the skin in one.
"Gold of Cleopatra"
Sugar was several hundred years ago as a luxury and remedies. Sugar was used for disinfection and wound healing by the antiseptic action. In cosmetics, sugar is used more and more, it contains different factors and components that Moisturizing and sustaining work. Meanwhile, it has researched, particularly well counteract the sugar molecules of skin aging.
The Cosmenia®-Story
We a are company who loves to create high quality Sugaring & Body Care, committed to using natural & naturally derived ingredients, especially also those with the greatest antioxidant effect. All products are vegan friendly, made in Europe and strictly tested on Cosmenia® Sugar Babes. Proudly founded (2014) and based in Munich (Germany).
#FALL IN LOVE WITH SUGARING
"We believe when you try once, you will fall in Love with the Products from Cosmenia®".
With so many natural & nourishing ingredients, you'll want to develop a long-term relationship with all products – one that lasts for days, months and even seasons. Attractive design, functionality and very effective by antioxidants e.g. in coffee & cocoa. Cosmenia® gives your skin a magical glow after every Sugaring